[ad_1]

WASHINGTON — President Joe Biden and other U.S. leaders mourned the death of Queen Elizabeth II on Thursday, whose 70-year-reign spanned 13 presidencies and enormous global and diplomatic change.
In a statement, Biden and the first lady called the queen "a stateswoman of unmatched dignity and constancy who deepened the bedrock Alliance between the United Kingdom and the United States."
The Bidens wrote that "In a world of constant change, she was a steadying presence and a source of comfort and pride for generations of Britons, including many who have never known their country without her," and said they "look forward to continuing a close friendship with The King and The Queen Consort."
Buckingham Palace announced that Queen Elizabeth II died Thursday at Balmoral Castle in Scotland at age 96. She was the longest-serving British monarch.
She had met with 13 sitting U.S. presidents during her lifetime, dating back to 1951 when President Harry S. Truman welcomed then-Princess Elizabeth and her husband, Prince Philip, the Duke of Edinburgh, at Washington National Airport for a two-day stay in the nation's capital.
Former U.S. presidents — from Jimmy Carter to Donald Trump — offered their condolences on Thursday.
"Queen Elizabeth's historic and remarkable reign left a tremendous legacy of peace and prosperity for Great Britain," Trump said in a post on his social media platform. "Melania and I will always cherish our time together with the Queen, and never forget Her Majesty's generous friendship, great wisdom, and wonderful sense of humor."
Former President Barack Obama and former first lady Michelle Obama said the queen's reign was "defined by grace, elegance, and a tireless work ethic, defying the odds and expectations placed on women of her generation."
"She listened deeply, thought strategically, and was responsible for considerable diplomatic achievements. And yet, she wore her lofty titles with a light touch—as willing to act in a comic sketch for the London Olympics as she was to record steadying messages for the people of the UK during the COVID-19 lockdowns," they added.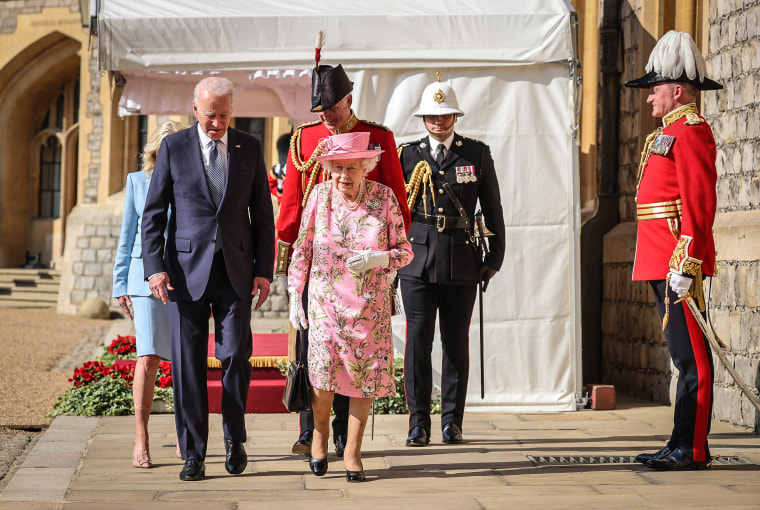 Biden, who first met the queen in 1982 as a Democratic senator from Delaware, last saw her in June 2021 during a trip to the United Kingdom for the annual Group of Seven summit.
Following the summit, the queen hosted the president and the first lady at Windsor Castle, her royal residence outside of London. Biden at the time described the queen as "extremely gracious" and said she "reminded me of my mother."
Biden participated in a video call with British Prime Minister Liz Truss and other allies Thursday morning before the queen's death was announced and offered his support to the queen and the people of the United Kingdom.
A White House official said Truss abruptly left the call, a sign that the queen had passed.
Queen Elizabeth met with 13 sitting U.S. presidents during her lifetime. Lyndon Johnson is the only one among the last 14 presidents whom she didn't meet.
[ad_2]

Source link