King Charles hosts PM Liz Truss and other British politicians
After he was publicly proclaimed Britain's new monarch, King Charles III held his first audiences at Buckingham Palace on Saturday afternoon.
The meeting was attended by Prime Minister Liz Truss and other politicians, including members of her Cabinet and opposition leaders, as well as the Archbishop of Canterbury, the Royal family said on Twitter.
British soccer criticized for canceling play after queen's death
British soccer has come under fire for its decision to postpone this weekend's round of fixtures following the death of Queen Elizabeth II, with some fans questioning the move in contrast to other sports bodies who opted to let play resume.
The Football Supporters' Association, which represents soccer fans in England and Wales, said the cancelation of games was a missed opportunity for fans to pay their respect.
"We believe football is at its finest when bringing people together at times of huge national significance — be those moments of joy or moments of mourning," the FSA said.
Grassroots and local soccer games have also been canceled by the Football Association, the game's national governing body.
Duran Duran pays tribute to Queen Elizabeth at Hollywood Bowl
Duran Duran honored Queen Elizabeth II during a concert in Los Angeles, California, on Friday night.
The British band performed their 1982 single "Save a Prayer" at the Hollywood Bowl, according to videos of the event shared to Twitter, as the audience sang along and illuminated the venue with lights from their cell phones.
"The concert was amazing," Georgina Tsoar, who attended, told NBC News. "I love the fact that they started the concert with a tribute to the late Queen Elizabeth."
King Charles III greets crowds near Buckingham Palace
King Charles III waved to crowds gathered near Buckingham Palace in London on Saturday.
The new king then stopped his car, got out and greeted people on The Mall, a road between the palace and Trafalgar Square, shaking their hands and taking a bouquet of flowers.
Meanwhile, the crowd cheered for the king and chanted, "All hail the King!" and "God save the King!"
Queen's coffin to make multiple stops ahead of state funeral
The queen's coffin, which currently resides in the ballroom at Balmoral Castle, will make multiple stops as it travels to London ahead of the state funeral, Buckingham Palace said in a statement Saturday.
On Sunday, it will travel by road to Edinburgh, Scotland, making its way to the to the Palace of Holyroodhouse, where it will stay until Monday, the palace said.
On Monday, the coffin will be taken to the St. Giles' Cathedral in Scotland's capital. There, King Charles III and members of the Royal family will attend a service, according to the palace. The queen's coffin will then lie at rest in the cathedral to allow the country's people to pay their respects. 
On Tuesday, the coffin will travel by air to RAF Northolt, a Royal Air Force station in England, before it's transported to Buckingham Palace by road, the palace said. And on Wednesday, the coffin will be led in a procession from Buckingham Palace to the Palace of Westminster, where the queen will lie in state at Westminster Hall until Sept. 19, the day of her funeral.
Watch: Princes William and Harry on walkabout to meet crowds at Windsor
William, Harry, Kate and Meghan reunite at Windsor Castle
WINDSOR, England — Prince William, Prince Harry and their spouses reunited at Windsor Castle on Saturday afternoon, appearing to put aside their rift to pay tribute to their late grandmother, Queen Elizabeth II.
Hundreds of mourners and visitors lined the four-mile path to the castle, straining their necks to catch a glimpse of the royals and cheering when the foursome appeared.
William, Harry, Kate and Meghan paused at a large flower memorial for the queen, stopping to read handwritten notes and admire the bouquets that mourners had left throughout the day.
The reunion was a notable and striking event given that the siblings have grown distant in recent years, especially following Harry and Meghan's decision to quit the royals for a life in the United States.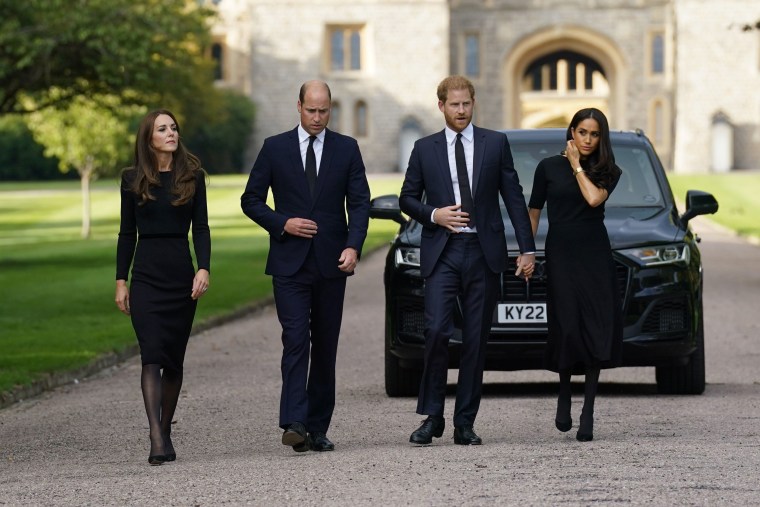 Lawmakers pledge allegiance to new king at the British Parliament
William, Kate, Harry and Meghan visit flower memorial for Queen
WINDSOR, England — Prince William and Catherine, Princess of Wales, as well as Prince Harry and Meghan, Duchess of Sussex, visited a flower memorial for Queen Elizabeth II in Windsor on Saturday. 
Hundreds have come to pay their respects to the queen, laying flowers outside the gates of the castle.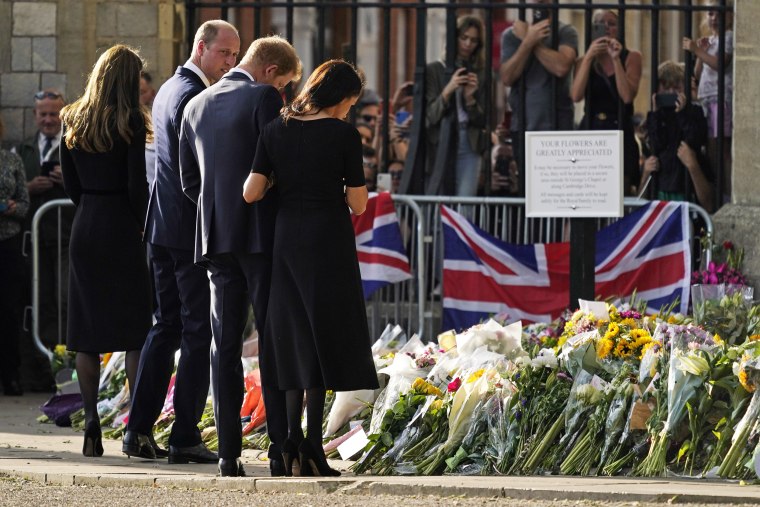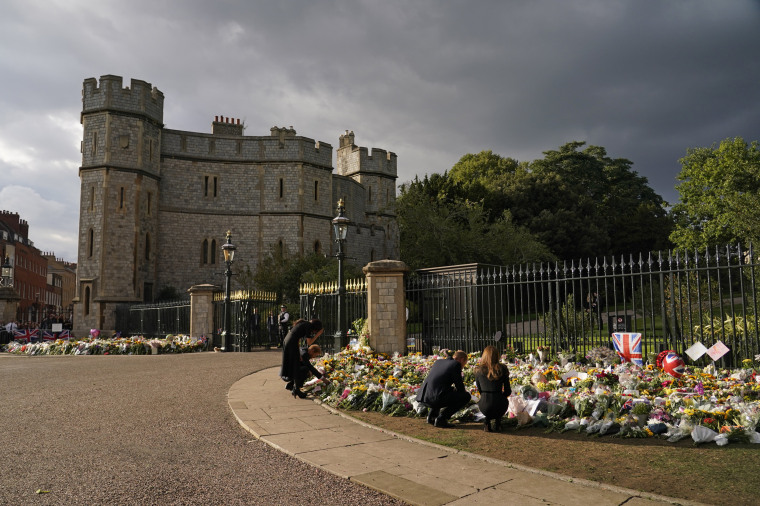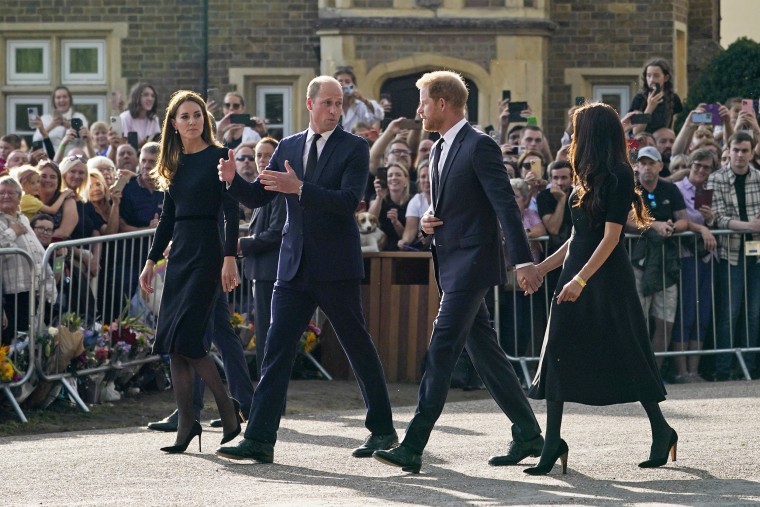 Following their reunion at the memorial, a spokesperson for William said: "The Prince of Wales invited the Duke and Duchess to join him and the Princess of Wales earlier."
Queen Elizabeth II's funeral to be held on Sept. 19
Queen Elizabeth II's funeral will take place on Sept. 19 at Westminster Abbey in London, Buckingham Palace announced Saturday.
The palace said in a statement that the queen would lie in state in Westminster Hall for four days, before the state funeral, to give the public time to pay its respects.
On Monday morning, the lie in state will end, and the queen's coffin will be taken in procession to Westminster Abbey, where the funeral service will take place, according to the palace.
King Charles proclaimed Canada's new head of state
Canada officially announced King Charles III as its monarch in a ceremony on Saturday. 
Prime Minister Justin Trudeau and Gov. General Mary Simon attended the accession ceremony in Ottawa, where Charles was formalized as the country's new head of state. Canada is a member of the British Commonwealth.
Prince William: 'The world lost an extraordinary leader'
Prince William said in a statement Saturday that "the world lost an extraordinary leader," following the death of his grandmother, Queen Elizabeth II. 
"So much will be said in the days ahead about the meaning of her historic reign," the Prince of Wales said.
"She was by my side at my happiest moments. And she was by my side during the saddest days of my life," he continued. "I knew this day would come, but it will be some time before the reality of life without Grannie will truly feel real.
"My grandmother famously said that grief was the price we pay for love. All of the sadness we will feel in the coming weeks will be testament to the love we felt for our extraordinary Queen. I will honour her memory by supporting my father, The King, in every way I can."
Mourners lay flowers outside British Embassy in Washington, D.C.
Mourners laid more flowers at the British Embassy in Washington, D.C., Saturday as they gathered to pay their respects to Queen Elizabeth II at a makeshift memorial outside the building.
A visibly emotional Grace Millbank told NBC News that the queen was "a role model of what we as people should be, in a world that is very fractured.
"My parents told me that I was supposed to live to be a gracious person, and I don't think I'll ever be as gracious as she was."
Queen's family view floral tributes
Family members, including three of Queen Elizabeth II's children, have been admiring messages of support from the public, at Balmoral.
Princess Anne, Prince Andrew and Prince Edward came to the gates of the Scottish castle where their mother died Thursday and viewed flowers and messages left by well-wishers.
Some of them seemed to become emotional as they read the messages from the public.
Prince Andrew thanked people for visiting. "We've been allowed one day, now we start the process of handing her on," he said.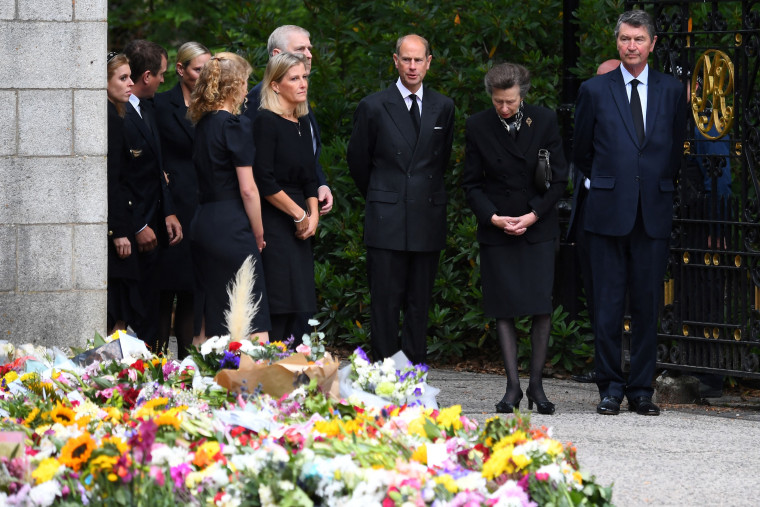 Queen asked to play the Beatles at state dinner, former French president says
Queen Elizabeth II once asked an orchestra to play the Beatles at a state dinner in 2014 to commemorate the 70th anniversary of the D-Day landings on five beaches in Normandy in June 1944, former French President François Hollande said Saturday.
"She talked about being a friend of France and her taste for French culture and generally for the arts," Hollande told Reuters.
"At one point, the Republican Guard was playing some classical music and I asked her what she would like and she said: 'Can they play the Beatles?' So the orchestra played several songs by the Beatles," Hollande said, referring to the military unit that provides guards of honor at official ceremonies.
A new king proclaimed at the Royal Exchange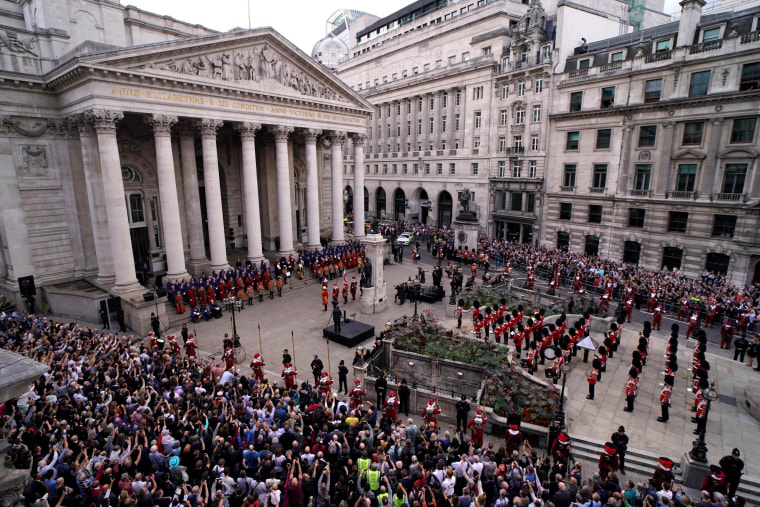 How movies, television helped define Queen Elizabeth II in the public consciousness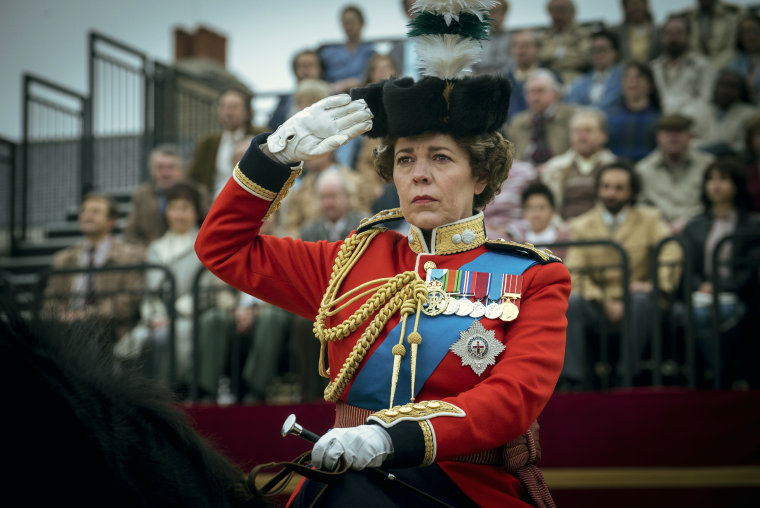 LONDON — In the 21st century, anyone with a smartphone or an internet connection does not lack for information about celebrities. The era of TikTok and TMZ has broken down barriers, making public figures feel nearer to us, reduced to human scale.
The late Queen Elizabeth II was a notable exception. 
In her decades on the throne, cultural mores evolved dramatically, but Her Majesty remained much the same despite being one of the most famous people in the world. She was reserved, withdrawn, poker-faced and, to most, fundamentally unknowable.
That never stopped screenwriters, filmmakers and other creative personalities from attempting to get inside the queen's head. In doing so, many viewers thought they understood a woman who revealed so little of her inner life to us.
Read more here.
Pomp, circumstance and lots of gold braiding
LONDON — King Charles III's already undisputed claim to the British throne got the royal rubber stamp Saturday when what's known as the Accession Council formally proclaimed the eldest son of Queen Elizabeth II the new monarch.
There was pomp and pageantry and tradition — and zero suspense — because Charles became king when Elizabeth died Thursday at Balmoral Castle in Scotland.
Charles' accession to the throne was a modern version of the Anglo-Saxon Witan, a two-part gathering of notables that predates the Middle Ages that was called after a sovereign died.
But this was the first time this ancient ceremony was televised, and millions around the world watched as Charles, 73, swore to uphold the constitution, protect the Church of Scotland, and signed the proclamation that made him king.
Read more here.
Police chase man who jumped barrier outside Buckingham Palace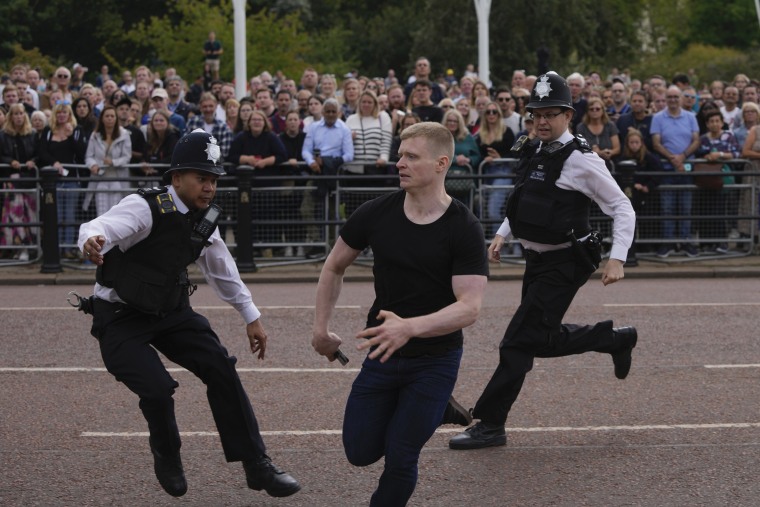 Religious leaders in Scotland unite to offer prayers for the king
Senior Scottish church leaders thanked Queen Elizabeth II for her "faithful service as sovereign" and offered "prayers for His Majesty King Charles III and the royal family at this time."
"We give thanks for her evident Christian faith and recall that in her first Christmas broadcast as Queen in 1952 she asked us to pray for her 'that God may give me wisdom and strength to carry out the solemn promises that I shall be making, and that I may faithfully serve Him and you, all the days of my life,' the Scottish Church Leaders' Forum said in a statement.
"In her faithful service of God and of the Nation she has surely fulfilled the promises that she made," it added.
Senior lawmakers pledge their allegiance to the new king
Senior lawmakers, including Britain's new prime minister, pledged their allegiance to the new king at the British Parliament.
Lindsay Hoyle, the speaker of the House of Commons, told MPs that "time constraints" meant only a small number of them could take their oaths but more time would be available at a later date.
Liz Truss, who was only sworn in as prime minister Tuesday, swore that she would "be faithful and bear true allegiance to His Majesty King Charles, his heirs and successors, according to law."
Scenes outside St. James's Palace as King Charles III ascends
Members of the public wait outside St. James' Palace as King Charles III holds a meeting with lawmakers.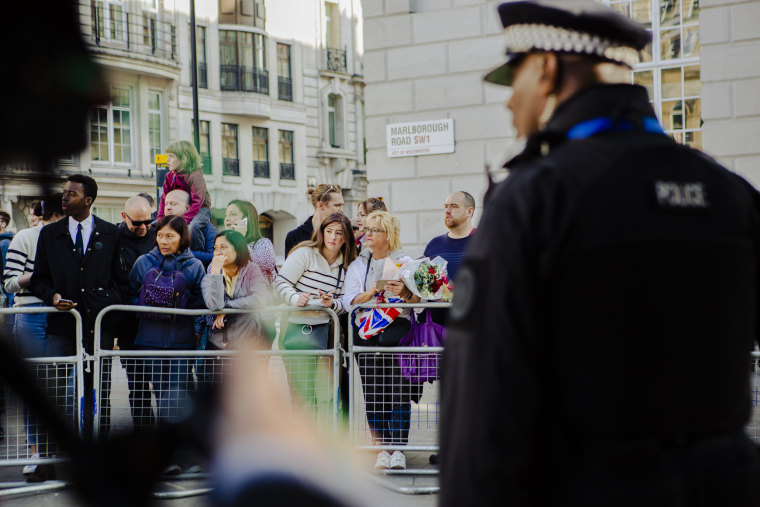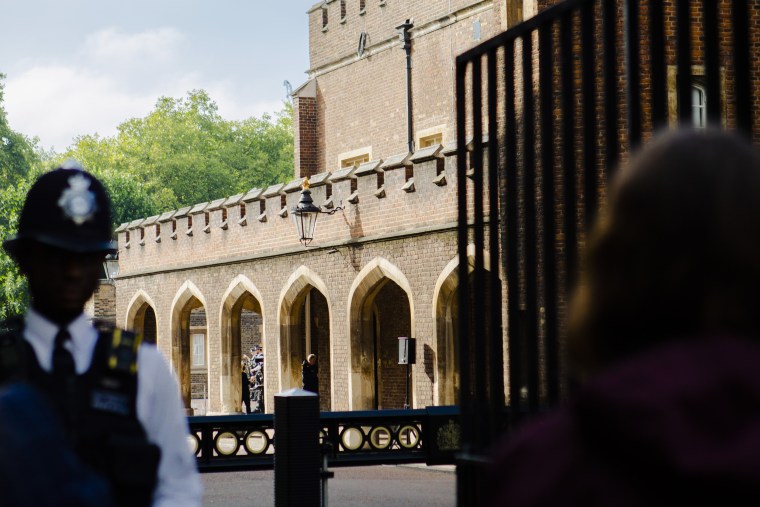 Thousands welcome King Charles III at Buckingham Palace
Large crowds cheered and applauded as King Charles III arrived at Buckingham Palace in his Rolls Royce.
Thousands of people packed the walkways around Buckingham Palace to try to catch a glimpse of the newly proclaimed king.
Charles could be seen smiling and waving back at the crowds as he drove past them.
Vladimir Putin sends 'sincere congratulations' to new king
Russian President Vladimir Putin has sent King Charles III a note of congratulations on his accession to the throne.
"I wish your majesty success, good health and all the best," the note said.
Anti-monarchy group: New king 'affront to democracy'
A British organization that campaigns for the abolition of the monarchy called the proclamation of a new king an "affront to democracy."
"Britain has changed almost beyond recognition since 1952 and the last royal succession. In this modern and democratic society our head of state cannot simply step into the role without debate or without challenge to his legitimacy," it said in a written statement on Twitter.
England's cricketers sing 'God Save the King'
England's cricket team and fans at the iconic Oval stadium in London rose to sing the national anthem shortly after Charles was proclaimed monarch.
"Such an emotional moment to not only say goodbye to Her Majesty, but also to welcome King Charles III," fan Paul Steenkamp told NBC News via Messenger.
It is believed to be the first official televised rendition of "God Save the King," as opposed to "God Save the Queen," to be sung at a sporting event.
England is playing South Africa.
Security ramped up in Scottish capital ahead of queen's procession
Armed police were stationed across Scotland's capital, Edinburgh, and roads closed ahead of the arrival of Queen Elizabeth II's coffin later this weekend.
The coffin will be transferred from Balmoral Castle in northern Scotland, where the queen died Thursday, to the Palace of Holyroodhouse. A ceremonial procession will then take it to St. Giles' Cathedral in the heart of the city Monday, where her body will lie in state before being transferred to London.
Protest outside St. James's Palace during accession
Second proclamation read in the City of London
King Charles III's accession was proclaimed on the steps of the Royal Exchange in the City of London, the country's traditional financial center.
The Royal Exchange is a former financial institution in the City of London, which served as a forum for merchants and traders. It is the capital's ancient Roman core, and is technically classed as a different city from London itself, with its own police force and mayor.
Further proclamations of Charles' accession will be made in Edinburgh, Cardiff and Belfast on Sunday.
'She was my boss'
Royal Air Force veteran Harry Stelling, 86, describes the late queen in simple terms: "She was my boss."
Stelling came to Windsor Castle on Saturday to lay flowers in honor of the queen to whom a "swore a covenant."
"All the guys I served with have got the most respect for the queen," he said.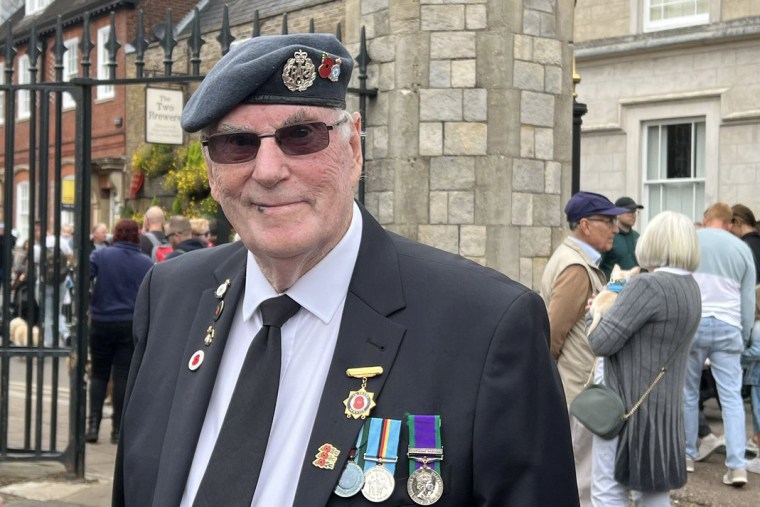 Tribute to King Charles III read by Garter Principle King of Arms
David Vines White, the Garter Principle King of Arms, welcomed King Charless III as the new monarch in a flowery public tribute from the balcony of St. James's palace.
"Prince Charles Philip Arthur George is now by the death of our late sovereign of happy memory become our only lawful and rightful liege lord, Charles III by the Grace of God of the United Kingdom of Great Britain and Northern Ireland and of his other realms and territories King, Head of the Commonwealth, Defender of the Faith, to whom we do acknowledge all faith and obedience with humble affection, beseeching God by whom kings and queens do reign to bless his majesty with long and happy years to reign over us. God save the King," he said.
National anthem and cries of 'God save the king' outside St. James's Palace
Applause and cheers of "God save the king" broke out outside St. James's Palace in London where Charles was officially proclaimed the new monarch.
Those gathered then gave three cheers for the new king before standing and listening to a gun salute in the distance.
Others sang the national anthem which changed from "God Save the Queen" to "God Save the King," after the death of Queen Elizabeth II.
Garter King of Arms proclaims Britain's new king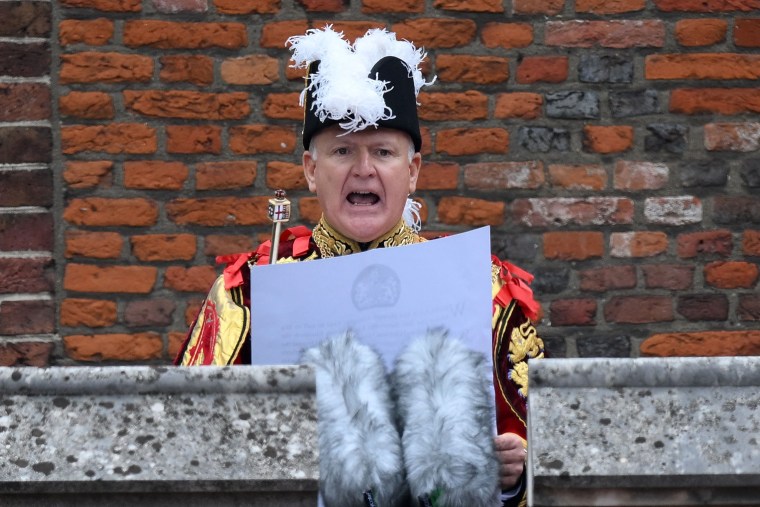 Public holiday declared for queen's funeral
King Charles III declared a public holiday on the day of Queen Elizabeth II's funeral.
He made the announcement after he was formally proclaimed king. "Even as we grieve, we give thanks for this most faithful life," he said.
No date has been set for the funeral.
Holding the Commonwealth together
Narinder Jagdev describes himself as a "lifelong monarchist," crediting Queen Elizabeth II with "holding the Commonwealth together," a reference to the association of mostly former colonies that the queen led and fostered.
Jagdev added that he hoped King Charles III would do the same.
"She could solve any problem, just like that," he said, snapping his fingers for emphasis.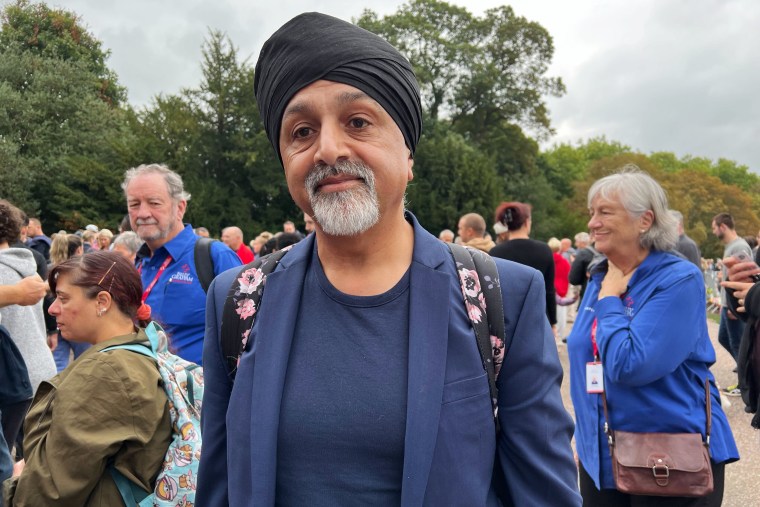 British prime ministers past gather for proclamation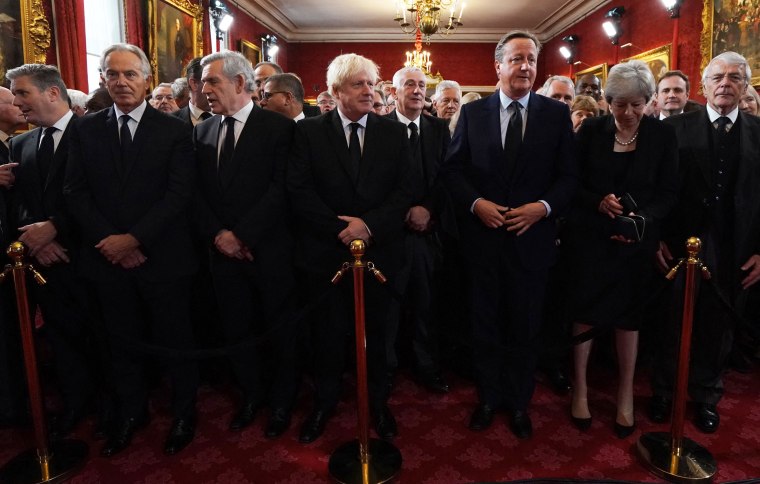 Gun salute honors King Charles III
A gun salute has taken place following the proclamation of Charles as king. Guns were fired at St. James's Palace in London, where the new monarch was announced at the Accession Council.
Gun salutes also took place across all four nations of the United Kingdom on Friday in tribute to Queen Elizabeth II. Shots were fired 96 times, one for each year of the queen's life.
Principal proclamation publicly declares Charles king
On a balcony overlooking Friary Court at London's St. James's Palace, the Garter King of Arms, David Vines White, publicly proclaimed Charles the new king after a cacophonous trumpet fanfare.
The national anthem "God Save the King," was then played and gun salutes were then fired in Hyde Park and the Tower of London to announce the new monarch.
At noon (7 a.m ET) similar proclamations will be made in the City of London — the capital's ancient Roman core — as well as in Wales, Scotland and Northern Ireland.
Charles makes first speech after being formally declared king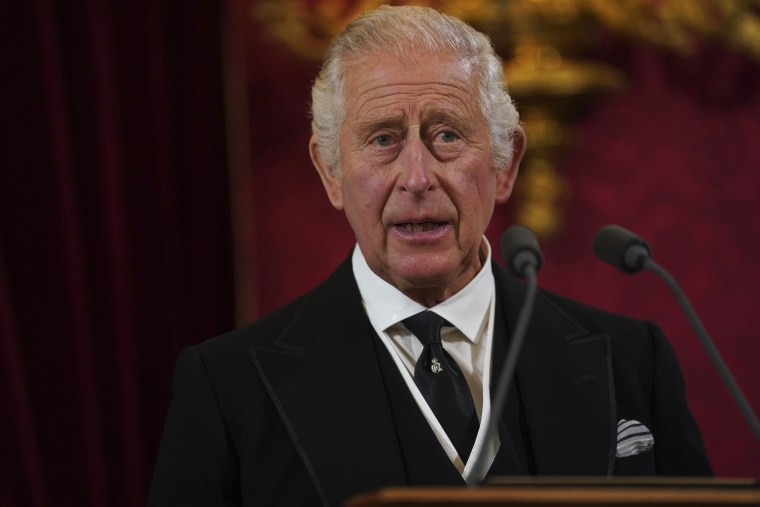 Hundreds descend on Windsor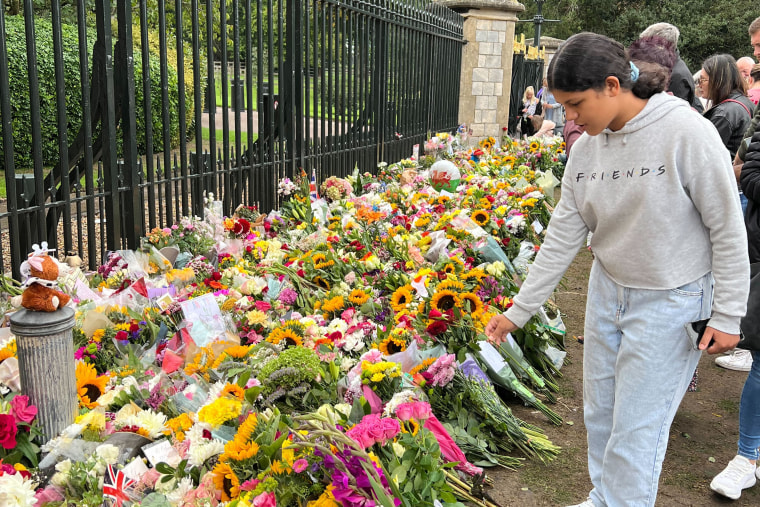 Queen helped 'heal the wounds of conflict,' defense chief says
Queen Elizabeth II helped to "heal the wounds of conflict" during her reign, the chief of Britain's defense staff said in a YouTube video address Saturday.
Highlighting her visits to Germany, Japan and Ireland, Adm. Tony Radakin described her as "the most magnificent ambassador for our country."
"Her Majesty brought together the very different nations of the Commonwealth in a spirit of fellowship," he said, adding that the queen was admired both by Britain's allies and adversaries.
Joining the Auxiliary Territorial Service during World War II in 1945, Elizabeth was the first member of the royal family to join the armed services full time. As a monarch she was the head of the armed services, with members of the military serving in her name.
Guards on patrol at St James's Palace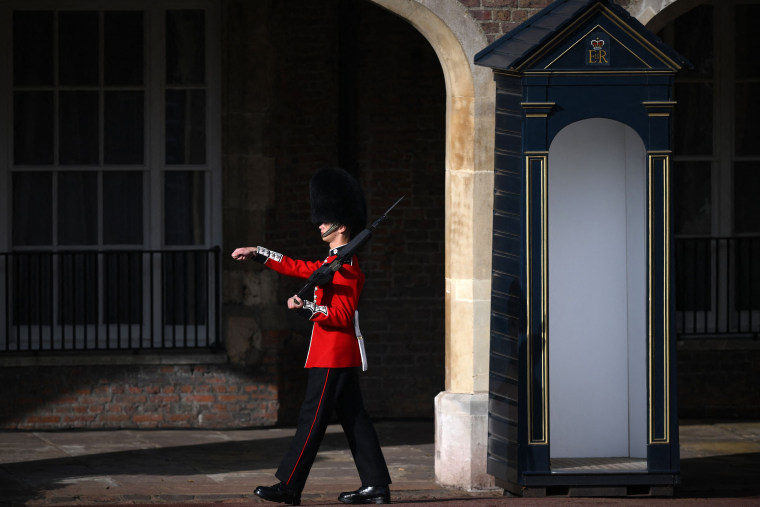 A mother and her children pay their respects at Windsor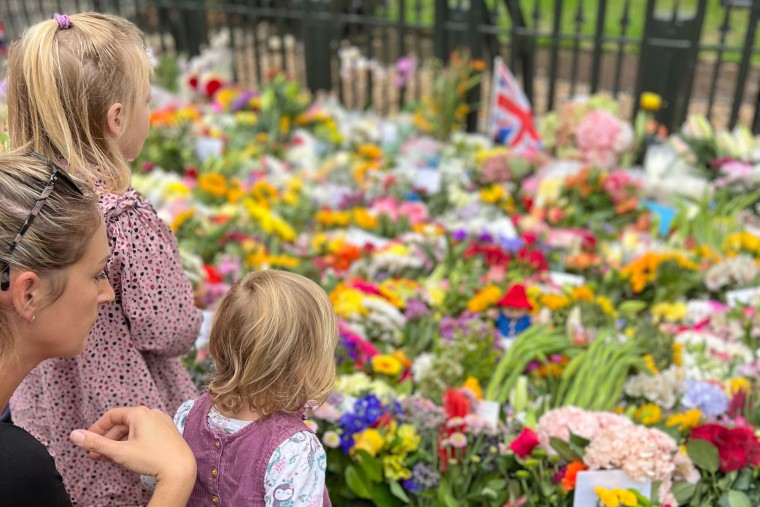 What is the Accession Council?
The Accession Council is made up of a group of advisers to the monarch that includes the Britain's Prime Minister Liz Truss, members of her cabinet, religious figures and representatives from the Commonwealth.
It's role is only ceremonial and its purpose is to officially announce the name of the new monarch.
The Accession Council was divided into two parts. First Queen Elizabeth II was declared dead and the name of the new king is read out from a balcony in London, Belfast, Cardiff and Edinburgh.
The second part saw King Charles III make a personal declaration about the queen and then he made and signed an oath to serve the constitution and to protect the Church of Scotland.
How the news of the king's accession will be shared
When the meeting of Accession Council concludes, the College of Arms, a royal corporation dating from 1484, will be responsible for spreading word of the new king throughout the country. The first announcements at St. James's Palace and the City of London will be accompanied by heralds and royal trumpeters. 
The proclamation will also be read out across England and Wales. The Foreign Office will distribute the text to British embassies, to British overseas territories and dependencies, and nations of the Commonwealth — a collection of mostly former colonies.
On Sunday, the proclamation will be read in Edinburgh, Cardiff and Hillsborough, and marked by the firing of 21-gun royal salute.
King Charles III makes personal declaration on the death of his mother
King Charles III made a personal declaration on the death of his mother Queen Elizabeth II.
"I know how deeply you and the entire nation, and I think I may say the whole world, sympathise with me in this irreparable loss we have all suffered," he told a the Accession Council where he was being formally declared as King.
"Her reign was unequalled in its duration, its dedication and its devotion. Even as we grieve, we give thanks for this most faithful life," he added.
Lawmakers gather ahead of Charles' proclamation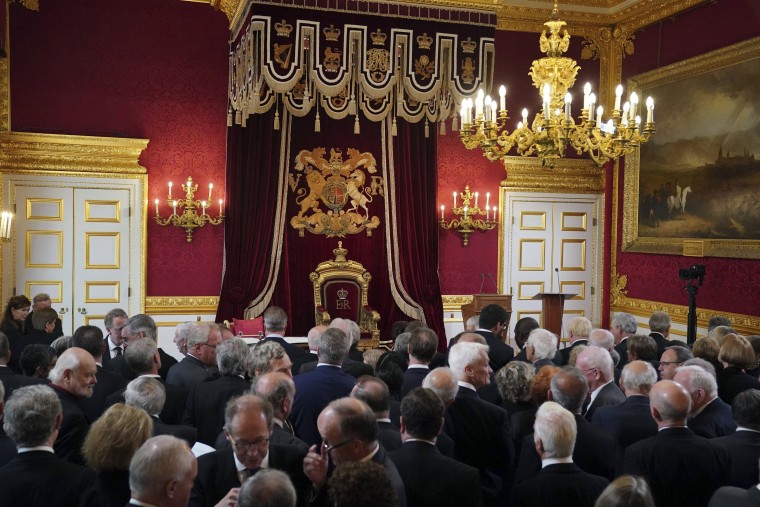 Crowds gather to witness Charles proclaimed king
Crowds are gathering outside St James Palace in London to witness Charles proclaimed king. Among the first to line up in the viewing area outside were Astrid Jacobs, Virginia Forbes and Penny McDermid.
"It's a very traditional part of what happens next. A lot of people don't actually know about it," said Jacobs, a Cambridge resident who arrived in London shortly after the queen's death. 
"It's a mixed time I find, emotionally," she added. "You're trying to reconcile the future with the pain that you're feeling at her loss. I wasn't prepared." 
Forbes, also a Cambridge resident, said she is inspired by the international outpouring of love and support for the queen. 
"It's extraordinary in this age of cynicism and social media what's come out," she said.
Charles proclaimed King
Britain's new monarch Charles III has been formally proclaimed as King during a historic ceremony televised for the first time.
Charles's role as King and the name he will use was confirmed during a meeting of the Accession Council at St James's Palace in London.
Senior figures from national life including Camilla, Queen Consort, his son William, the new Prince of Wales and Prime Minister Liz Truss took part in the ceremony.
Accession Council meets to proclaim Charles king
Members of the privy council — a group of advisers to the crown including the London Lord Mayor, high ranking civil servants, politicians and members of Britain's House of Lords — are meeting in the State Apartments of St James's Palace to formally approve Charles as the U.K.'s new king.
It is an international gathering, with commonwealth commissioners also flying in to join. Yet, breaking from tradition, not every member of the privy council has been invited to participate in the ceremony. Election to the council is a life role, and there are more than 700 members. Only 200 members will be in attendance due to space restrictions.
The council will approve Charles as sovereign first without his presence, with the new king waiting in an adjoining room. Then, he will join them to make a declaration on the death of Queen Elizabeth II, and swear to uphold the church in Scotland.
The ceremony, which is traditionally conducted in private one hour prior to the Principal Proclamation — the first time a new monarch is announced public — is being broadcast live on national television for the first time.
Floral tributes mount up in London's Green Park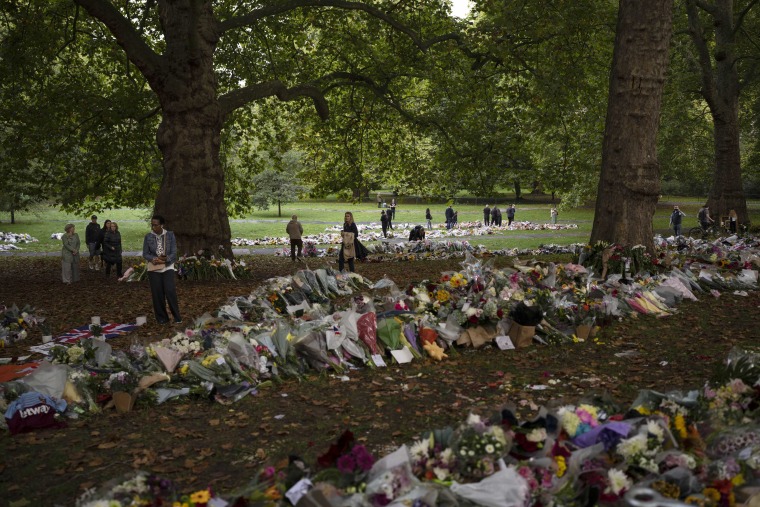 Saturday will be a day of mourning and of ascension
On Saturday, Queen Elizabeth II's body will be moved to Holyrood, her residence in Scotland's capital, Edinburgh, as the solemn occasion will give way to the rites of ascension for King Charles III.
Under long-held custom, the king will say an oath and give a speech in London. Not customary: For the first time, the formality known as the Accession Council will be televised.
The king will be hailed by a 41-gun salute at Hyde Park fired by the King's Troop Royal Horse Artillery, and by a 62-gun salute at the Tower of London by the Honourable Artillery Company. 
A Garter King of Arms, a heraldic position in the royal household since 1484, will proclaim Charles the new king from a balcony of St. James's Palace.
The royal band will then play the first verse of "God Save the King," and flags will be temporarily raised from half mast. At 73, King Charles III is the oldest person to assume the British throne.
The king was expected to arrive at Holyrood on Sunday.
London's Tower Bridge illuminated for Queen Elizabeth II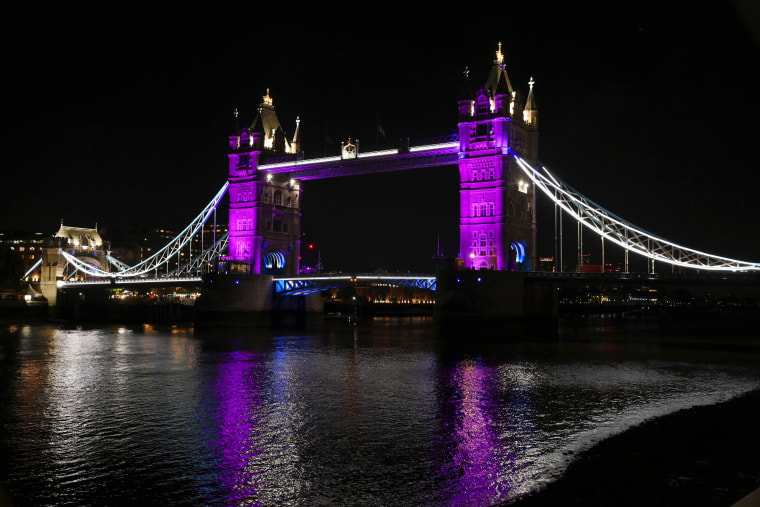 Soccer legend Pelé reminisces about queen's visit to Brazil
Soccer legend Pelé on Friday paid tribute to to Queen Elizabeth II by recalling fond memories of her visit to Brazil in 1968.
He said she made a lasting impression when she came to witness Brazil's love for the sport known in both nations as football. Her deeds and legacy, he said, "will last forever."
As the only player to win three World Cups, Pelé, 81, has been described as the "player of the century" and "the greatest" to play the sport.
On Friday, he described Elizabeth's visit as the scene of a lifetime. "I have been a great admirer of Queen Elizabeth II since the first time I saw her in person, in 1968," he tweeted, "when she came to Brazil to witness our love for football and experienced the magic of a packed Maracanã."